Auto Body Repair Ft Pierce | Total Auto Painting and Collision Center
How do you repair a dent?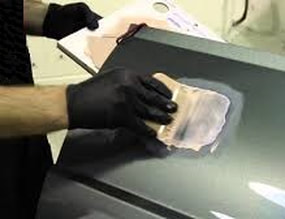 There are a lot of different ways to repair a dent but Total Auto Painting and Collision Center knows of only one way, and that's the right way! At our
Body Shop Ft Pierce
, a dent repair really begins with the professional assessment of a well-trained and experienced auto body estimator.
The size, depth, and location of the dent are all considerations when determining the correct method of dent repair. A dent on a body line, for instance, would increase the labor time of the repair because the body line would have to be re-created by the auto body technician. This is truly an art-form as the technician has to be a sculptor of sorts.
A small dent without any paint damage may be a good candidate for a paintless dent repair. Paintless dent repairs utilize special tools to push the small dent out from the inside. This technique really doesn't work well with larger dents due to the stretching of the metal. Stretched metal is definitely not the friend of a professional paintless dent remover.
Larger dents require pulling and shaping of the metal. This is a crucial step to the overall quality of the repair. Performed correctly, the dent repair will only require the smallest amount of filler (Bondo) to bring the repaired area level with the rest of the surrounding area. So, when it comes to dent repair, the least amount of filler necessary, the better!
​Once the metal is pulled and the filler is applied, the auto body technician will sand the area using a sanding block with sand paper. Properly block sanding the repaired area prevents high and low spots, which could look wavy once the panel is refinished. The final steps will be to fill any small pin-holes or imperfections in the Bondo, re-sand the area (usually using a finer grit sand paper) and then spray primer over the repaired dent. The entire panel will be later prepped, then refinished.
---
Which is better... Conventional Dent Pullers or Spot Weld Dent Pullers?
Conventional dent pullers require a series of holes to be drilled into the sheet metal to pull the dent outward. Although it does work, it is not the preferred method because it can weaken the panel and make it more prone to rusting. This method is also more time-consuming because the holes that were created must be welded closed and treated with corrosion protection.

Stud Welders spot-weld a series of pins onto the surface of the dented metal without piercing the panel. Then a slide stud-puller is attached to the pins and used to pull the dent out of the panel. Once the dent has been pulled, the pins are snipped off and ground down. The result is a professional-looking dent repair that requires a minimal amount of filler.